The Liberty Bell
COLOURING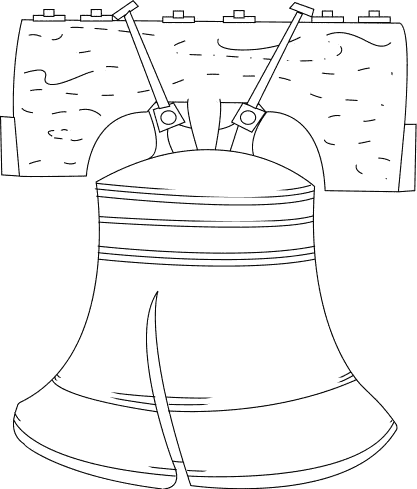 INSCRIPTION
PROCLAIM LIBERTY THROUGHOUT ALL THE LAND UNTO ALL THE INHABITANTS THEREOF LEV.XXV X
BY ORDER OF THE ASSEMBLY OF THE PROVINCE OF PENSYLVANIA FOR THE STATE HOUSE IN PHILADA
PASS AND STOW
PHILADA
MDCCLIII
THE CRACK
There is widespread disagreement about when the first crack appeared on the bell. Following this crack, the bell was given to John Pass and John Stow completely recast it.
It is also not certain when the second crack appeared (the first after the Pass and Stow re-castings); it is agreed, however, that the final expansion of the crack which rendered the bell unringable was on February 22, 1846, in honour of George Washington's birthday.
OTHER FUN FACTS!
The Liberty Bell has served as one of the most prominent symbols of the American Revolution. It is a familiar symbol of independence within the United States and has been described as an icon of liberty and justice. It weights about 900 kilograms.
"Tradition tells of a chime that changed the world on July 8, 1776, with the Liberty Bell ringing out from the tower of Independence Hall summoning the citizens of Philadelphia to hear the first public reading of the Declaration of Independence by Colonel John Nixon" (source).
Tradition also holds that the bell was rung to announce the opening of the First Continental Congress in 1774 and after the Battle of Lexington and Concord in 1775.
The bell was tolled a number of other times as well, including the death of Benjamin Franklin in 1790, the death of George Washington in 1799, the return of Marquis de Lafayette to Philadelphia in 1824, the death of Thomas Jefferson in 1826, the 100th birthday celebration of Washington in 1832, and the death of Lafayette in 1834.
The Liberty Bell achieved iconic status when abolitionists adopted the bell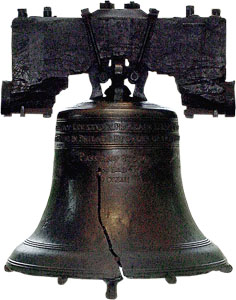 as a symbol for the movement. It was first used in association with abolitionism as a frontispiece to an 1837 edition of Liberty, published by the New York Anti-Slavery Society. Two years later, William Lloyd Garrison's anti-slavery publication The Liberator reprinted a Boston abolitionist pamphlet containing a poem about the bell titled "The Liberty Bell." It was, in fact, the abolitionists who gave it the name Liberty Bell, which is a reference to its inscription. Previously, it has simply been called the State House bell. (Ibid.).
The Liberty Bell is currently located at the Liberty Bell Center, located in Philadelphia, PA, on Market Street between 5th and 6th Streets. It is open daily with the exception of Christmas Day from 9:00 AM to 5:00 PM with extended hours of operation during the summer months. No tickets are required; however, visitors must submit to a "security checkpoint" before entering.

Click here to interact with the Liberty Bell.
Click here for a Timeline of the Liberty Bell.
Click here Frequently Asked Questions about the Liberty Bell.